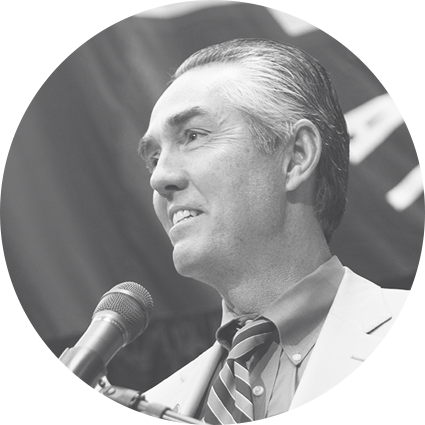 Steven A. Robinson is a consultant, author and speaker on organizational culture design & leadership, brand strategy development, marketing planning, and distinctive advertising principles.
He is the former Executive Vice President and Chief Marketing Officer of Chick-fil-A, Inc., 1981-2015. Prior to joining the company, Steve was the director of marketing for Six Flags Over Georgia theme park in Atlanta, Georgia. This role was preceded by marketing positions at two other Six Flags properties and communications manager at Texas Instruments.
After beginning his career at Chick-fil-A as director of marketing, Steve went on to serve as vice president of the department before becoming chief marketing officer. In his most recent role, he was responsible for overseeing marketing, advertising, brand development, menu development, and hospitality strategies.
In addition to serving on Chick-fil-A's board of directors from 2016-2018, Steve serves on several boards for organizations and ministries, including FamilyLife, Fellowship of Christian Athletes of Atlanta, Links Players International, Atlanta Hall Management & College Football Hall of Fame, and the National Football Foundation.
He holds an associate degree in business administration from Faulkner State Junior College, a Bachelor of Science in marketing from Auburn University, and a master's in advertising from Medill School of Journalism at Northwestern University.
Steve and his wife, Dianne, have two children and four grandchildren.
"Steve was truly one of the best speakers we have ever had. Our audience was captivated by the wonderful story of how Chick-fil-A overcame adversity by instilling a biblical corporate culture and treating their customers above and beyond their expectations. Steve's insights and thoughts on their marketing campaigns really resonated with our attendees, and we all had tremendous takeaways for our own companies. He was a gentleman and a blessing to the SEPC!"

Organizational Culture Design

Brand Architecture Design

Marketing Strategy Development

Iconic Advertising Principles

Brand Activation in Sports
"Steve Robinson is one of the greatest executives I've ever had a chance to work with.
Steve's vision for marketing at Chick-fil-A set the bar for companies across the United States. His leadership, mentorship and care for others stands out above all. If I were a company leader, or group of executives, I would seriously consider spending some time with Steve Robinson if you really want to take your business to the next level."