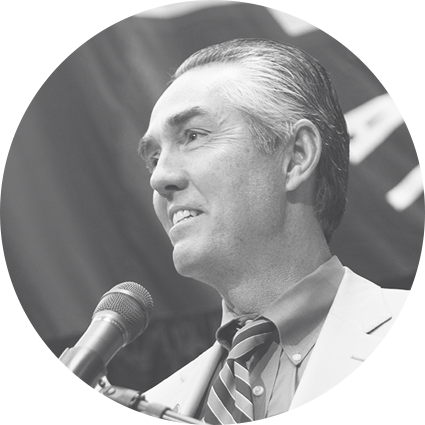 Steven A. Robinson is a consultant, author and speaker on organizational culture design & leadership, brand strategy development, marketing planning, and distinctive advertising principles.
He is the former Executive Vice President and Chief Marketing Officer of Chick-fil-A, Inc., 1981-2015. Prior to joining the company, Steve was the director of marketing for Six Flags Over Georgia theme park in Atlanta, Georgia. This role was preceded by marketing positions at two other Six Flags properties and communications manager at Texas Instruments.
After beginning his career at Chick-fil-A as director of marketing, Steve went on to serve as vice president of the department before becoming chief marketing officer. In his most recent role, he was responsible for overseeing marketing, advertising, brand development, menu development, and hospitality strategies.
In addition to serving on Chick-fil-A's board of directors from 2016-2018, Steve serves on several boards for organizations and ministries, including FamilyLife, Fellowship of Christian Athletes of Atlanta, Links Players International, Atlanta Hall Management & College Football Hall of Fame, and the National Football Foundation.
He holds an associate degree in business administration from Faulkner State Junior College, a Bachelor of Science in marketing from Auburn University, and a master's in advertising from Medill School of Journalism at Northwestern University.
Steve and his wife, Dianne, have two children and four grandchildren.
"Steve was truly one of the best speakers we have ever had. Our audience was captivated by the wonderful story of how Chick-fil-A overcame adversity by instilling a biblical corporate culture and treating their customers above and beyond their expectations. Steve's insights and thoughts on their marketing campaigns really resonated with our attendees, and we all had tremendous takeaways for our own companies. He was a gentleman and a blessing to the SEPC!"

Organizational Culture Design

Brand Architecture Design

Marketing Strategy Development

Iconic Advertising Principles

Brand Activation in Sports
"Steve has become a sage in my life. I have come to trust his guidance in our long range planning, his common sense in our daily operations, and of course his legendary know-how in our branding and marketing. I walk away from each discussion with nuggets of practical wisdom that have turned my own ideas of long range planning completely upside down. I've got the numbers to prove it's already helped, but I'm convinced his influence has only begun to truly show up in our data. I'm building a family business with what has become a good friend and advisor at my fingertips, and I really can't wait to see what we accomplish next!"
"Having been in business for over twenty years, I have worked with a variety of consultants and business coaches. It seems that those who are most effective not only help you navigate the stormy waters of business, but actually change the way you see things. This is exactly what Steve has done for our organization on a level I didn't know possible. He thinks dynamically and holistically, and because of his vast experience is able to provide direction in every facet of our business. He has helped us strengthen our culture and build a strategic plan around who we are as an organization. Finally, he has demonstrated that he genuinely cares and embodies the values that make Chick-fil-A so endearing to so many people. I can't recommend him highly enough."
Author "Covert Cows and Chick-fil-A"