"Culture is the soil from which
great brands grow, but only
if leaders cultivate the soil."
Covert Cows and Chick-fil-A

The inside story of how Chick-fil-A turned prevailing theories of fast-food marketing upside down and built one of the most successful and beloved brands in America.
During his thirty-four-year tenure at Chick-fil-A, Steve Robinson was integrally involved in the company's growth–from 184 stores and $100 million in annual sales in 1981 to over 2,100 stores and over $6.8 billion in annual sales in 2015–and was a first-hand witness to its evolution as an indelible global brand. In Covert Cows and Chick-fil-A, Robinson shares behind-the-scenes accounts of key moments, including the creation of the Chick-fil-A corporate purpose and the formation and management of the now-iconic "Eat Mor Chikin" cow campaign.
Drawing on his personal interactions with the gifted team of company leaders, restaurant operators, and the company's founder, Truett Cathy, Robinson explains the important traits that built the company's culture and sustained it through recession and many other challenges. He also reveals how every aspect of the company's approach reflects an unwavering dedication to Christian values and to the individual customer experience. Written with disarming candor and revealing storytelling, Covert Cows and Chick-fil-A is the never-before-told story of a great American success.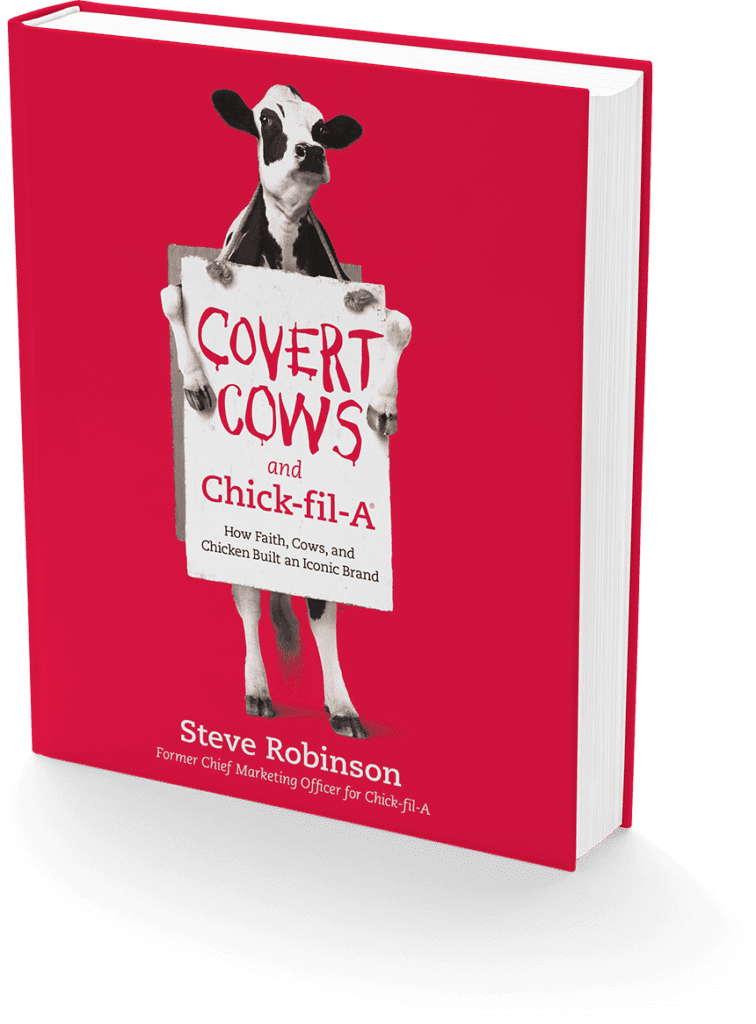 Praise for the Book
"Steve Robinson used simple ingredients to create his successful marketing recipe for Chick-fil-A: a chicken sandwich, uneducated cows, and enlightened customers. In this book the genius himself reveals how he did it. This gifted and humble man taught thousands of people how to enjoy marketing and sell chicken. You will also learn and enjoy this trip with him down memory lane."
Praise for the Book
"This is an outstanding story of brand creation from humble beginnings and leadership in the management team. I wish I'd read it years ago."
-Amazon customer review
Praise for the Book
"The cow campaign became an endearing part of American pop culture largely because of an independent, family-owned business armed with conviction. . . . [and] the successful launch of the Eat Mor Chikin movement required great courage from a CMO who saw an original idea and approved it based on his instincts."
Praise for the Book
"This is a great business book filled with great stories and insights into how to build a brand and a company. The vision and values are scattered everywhere, and that vision and those values are lived out through the company. I appreciated the broad look into this amazing organization and the foundation of faith in God that helped build it."
-Amazon customer review
Praise for the Book
"You will enjoy reading this fantastic inside look at how and why Chick-fil-A grew from an idea into a national brand. Steve's book outlines the foundation that this amazing company is based on: faith, family, loyalty, and lots of hard work. Readers will understand how thoughtful marketing and a great product can lead to thirty-four years of success and one of the best business growth stories of all time."